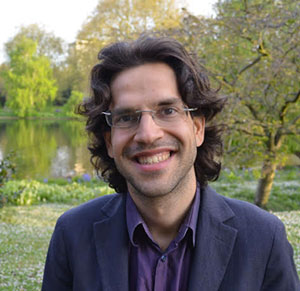 Augusto Gerolin is a Canada Research Chair in Artificial Intelligence at the Interface of Chemistry and Mathematics, and is an Assistant Professor jointly appointed to the uOttawa departments of Mathematics & Statistics, and of Chemistry and Biomolecular Sciences.


He is a member of the European Laboratory for Learning and Intelligent Systems (ELLIS). Previously, he was a Marie Skłodowska-Curie fellow at the Theoretical Chemistry section of the Vrije Universiteit Amsterdam (Netherlands). He obtained his PhD degree at the University of Pisa (Italy).


Gerolin's research interests include Optimal Transport Theory, Quantum Information, Machine Learning, Computational and Quantum Chemistry.

Contact
Website: https://mysite.science.uottawa.ca/agerolin/
Email Address: agerolin [at] uottawa [dot] ca
Phone number: 613-562-5800 ext. 2057
Office: STM 357