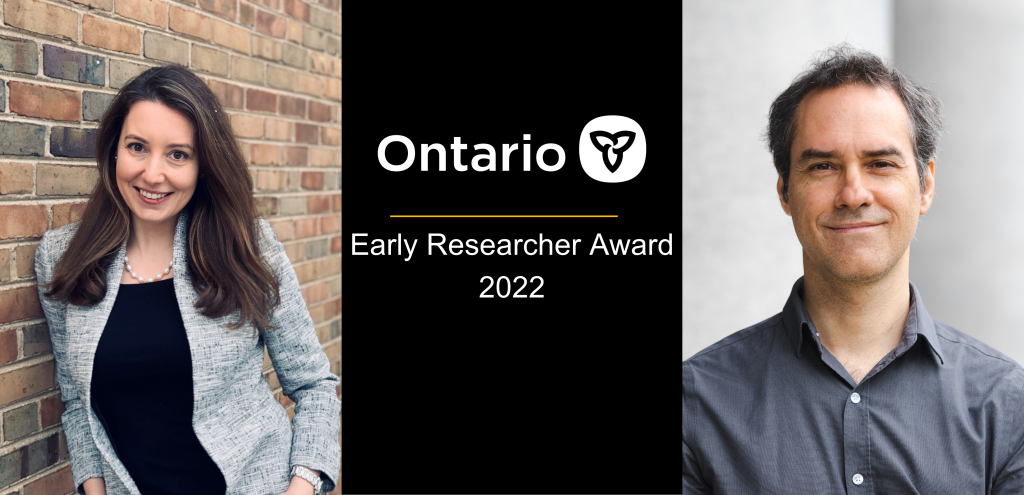 UOttawa physics professors Adina Luican-Mayer and Jean-Michel Ménard have been awarded the Ontario government's Early Researcher Awards. The honour recognizes the work of new researchers at Ontario research institutions and is awarded to catalyze the building of a research team.
The University of Ottawa is proud of this exceptionally talented new generation, determined to expand the frontiers of knowledge in key areas for our shared future," said Sylvain Charbonneau, vice-president, research and innovation. "Their ability to distinguish themselves so early in their careers speaks amply of their rich and diverse research contributions to come.
Adina Luican-Mayer: Quantum technologies have raised expectations of a veritable revolution in physics, computer science, medicine and many other sectors. With the emergence of two-dimensional quantum materials made up of one single layer of atoms, new breakthroughs are now within reach. Researcher Adina Luican-Mayer specializes in condensed matter. Through her work, she seeks to understand and control quantum functionalities of two-dimensional materials. The experimental research lab she heads combines scanning microscopy and nanofabrication techniques to push the boundaries of knowledge regarding quantum matter at the scale of individual atoms. With precise atomic techniques, Luican-Mayer and her team will apply themselves to designing quantum devices of high scientific and technological value.

Jean-Michel Ménard: Quantum systems will be central to tomorrow's technologies. Nevertheless, we still know of few methods to master them and fully harness their potential. Researcher Jean-Michel Ménard relies on the latest photonics techniques to make advances in this area. Building on the breakthroughs already achieved in his time-resolved terahertz spectroscopy lab, his team will conduct research on manipulation of the quantum state of solids and molecular systems. His experiments on semiconductor microsamples or chemical components strongly coupled to light will pave the way for new computing and quantum communication technologies, as well as prepare interns to join the exciting Ontario R&D market for these emerging fields.

The University of Ottawa and the Nexus for Quantum Technologies would like to congratulate Professors Lucian-Mayer & Ménard on their accomplishments and look forward to seeing what breakthroughs they will undoubtedly bring to the field.

More information about Adina's research can be found at her site, at https://luican-mayer-lab.physics.uottawa.ca/group/.
She is @LuicanMayer on Twitter.

More information about Jean-Michel's research can be found at his site, at https://menard.physics.uottawa.ca/content/group.
He is @menardlab on Twitter.